Shelly Ann Candles
Shelly Ann Candles started as a hobby, over time it grew from selling to friends to markets, pop ups, festivals to hiring staff and teaching classes, holding workshops and doing party plan. We now not only make our own candles we also have a large range of electrical items and incense, crystal accessories and so much more. We are always growing and learning. We endeavour to produce candles with a fragrance that last the whole burn. we pride ourselves on quality and service and hope that all our clients get the enjoyment out of our products as we do.
Make an enquiry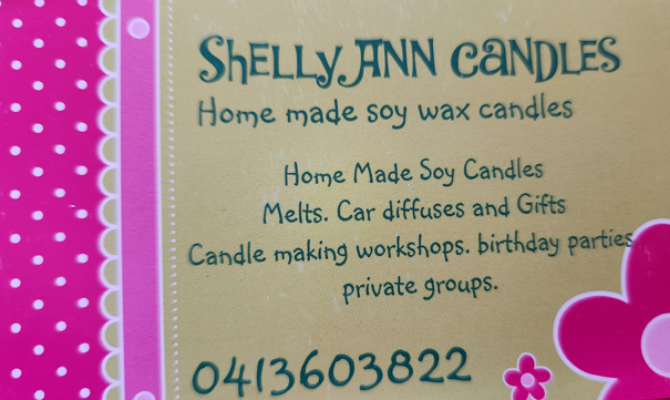 Special

- Candle Making Classes

Book a Introduction to Candle Making Class at our stand for two and receive the second booking at half price.
Conditions
Offer relates to one class only, one half price per full price booking.
Special

- Candle Warmer Special

With the purchase of any Candle Warmer, receive a discounted candle to compliment your warmer.
Candles normally $38.00 with Candle warmer $25.

Conditions
Candle on offer is only discounted with Candle Warmer purchase . only one candle can be purchased at discounted price per warmer.
Special

- Pluggable warmers

Purchase two Pluggables at full price and get $10 off.

Conditions
discount applies to 2 pluggables purchased at Festival only. Cannot be used with any other offer relating to pluggables.