Elektra Magnesium
Elektra Magnesium® is made in Australia and offers the largest range of natural (chem-free) magnesium skin and body care products in the world, including magnesium oil, flakes, lotion and cream. Developed since 2008, its premium quality and ease of absorption makes Elektra Magnesium® stand head and shoulders above the crowd. Transdermal magnesium delivers more magnesium faster than tablets. Elektra Magnesium® products moisturise and soften skin, smell great and are easily absorbed. Use them for rapid muscle relaxation, cramp or pain relief, anti-aging skin care, anti-itch, rashes, eczema, psoriasis, dermatitis, after-sun recovery, anti-acne and as deodorant. Great for pregnancy and kids too!
Make an enquiry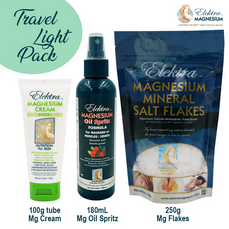 Special

- Travel Light Magnesium Pack $60

Save over $16! Pack includes 100g tube Magnesium Cream + 180mL Magnesium Oil Spritz + 250g Magnesium Flakes (food Grade)
Conditions
Only available at Mind Body Spirit Festival.
More information