Zendo & Co
Here at Zendo & Co, we have a rich cultural connection to tea. From childhood memories and ongoing family traditions, tea continues to connect and inspire us. Zendo & Co is a manifestation of our love for tea, which is why we take pride in bringing you the finest quality organic loose-leaf tea to help you create these moments of zen. At Zendo & Co we follow the philosophy of purity and beauty, brewing a kaleidoscope of colours and aromas to enchant the senses, heal the body and soothe the mind.

Working alongside health professionals, we strive to cultivate nutritional and therapeutic benefits in each blend to enhance your wellbeing. The ingredients in all our loose leaf teas have been carefully selected for their rich therapeutic properties and fulsome flavour while each blend in our Exclusive Zen Range is hand-selected and carefully crafted by a qualified Naturopath.

Our packaging is designed and made to be environmentally friendly. We strive to use a range of materials that are either biodegradable or recyclable after use. At Zendo & Co we aim to do our part, where we can, for our environment.

Join us in our holistic approach to health & wellbeing and find the tea that suits you for whatever reason it be. Don't forget to check out our finest 2-in-1 Glasshouse Tea Infuser bottles! A must-have and crowd-pleaser for all tea lovers and enthusiasts out there!

We can't wait to meet you at the Festival, explore our specialty teas, accessories and begin your zen journey with us. Plus - you will see the launch of our new aromatherapy range!

Zendo & Co - Organic tea - this is what we are all about.
Make an enquiry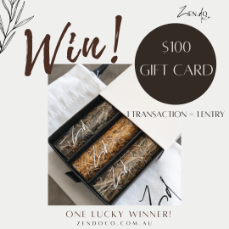 Special

- WIN A $100 GIFT CARD

Enter into a draw to win a $100 Gift Card with any Zendo & Co. purchases at the Mind, Body & Spirit Festival 2021.
Conditions
Not applicable for any refunded items. Customer purchase(s) of Zendo & Co store items only. Applies for any customers who attend MBS festival and make an online order.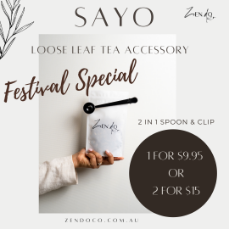 Special

- SAVE!

Buy 2 SAYO Teaspoon & Clip for $15.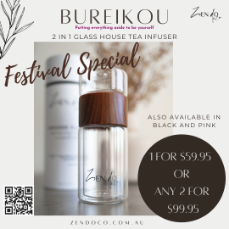 Special

- Special Offer! 2-in-1 Glass house tea infuser bottle.

Tea for two and on the go!
Any two BUREIKOU 2-in-1 Glass House Tea Infuser bottles for $99.95!
Conditions
Only valid for MBS attendees. Valid and applicable for any MBS festival attendee who would like to take an online purchase order.