Wello2
WellO2 is a breathing exercise device that can radically improve the lives of those with breathing difficulties. WellO2 is an innovation to help you live, feel and breathe better. The steam pressured breathing exercise device opens up, cleanses and strengthens your lungs by combining counter pressure exhaling and inhaling steam to open up and cleanse the lungs by removing phlegm from the airways.

A common breathing disorder can lead to sleep apnea. Sleep apnea is a restriction in breathing when one is asleep and can lead to more serious problems down the line. Creating a regular breathing routine using our product can help you get back to a super night's sleep for you and your partner.

Getting exercise and getting enough oxygen can be taken for granted. Breathing exercises have been proven to improve your mental, deep breathing can also reduce anxiety. There are so many more reasons why our breathing is so important and thankfully we have developed a product that can help assist you in achieving better sleep, life, and general well-being.

If you sometimes feel short of breath or are struggling to sleep make sure you come and visit us at the Sydney MindBodySpirit Festival! We are happy to help address your questions and concerns.



Make an enquiry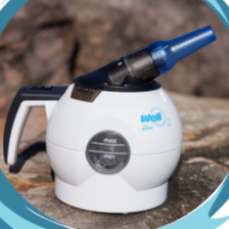 Special

- Special Tradeshow Offer

Special Tradeshow Offer $299 - Savings of $100!!
($399 RRP)