Victoria Cochrane Psychic and Spiritual Healer
Victoria, the 2019 Tasmanian Psychic Expos' Psychic of the Year, uses her connection to Divine Energy and psychic abilities to effect positive change in your life. She is a psychic channel, energy reader and soul healer, tutor and author. Through her training as an Advanced Theta Healing Practitioner and her strong intuitive abilities, Victoria can read your energy, facilitate and witness the clearing of past and past-life trauma, the transmutation of negative emotions and belief systems to help you to clear energy blocks and to move forward in life.

A talented clairvoyant and psychic channel, Victoria is especially keen to empower people to step into their own psychic and spiritual gifts and is available for private tutoring or group workshops.

Victoria is a regular contributor to the Spiritual Events and Directory's Rebirth Magazine. She can be seen live every Wednesday on the Spiritual Events and Directory's Facebook Page at 12 noon in her Spiritual Wisdom Hour where she talks about spiritual and psychic development, facilitates meditations and conducts group and individual readings.

Be sure to visit Victoria at the Sydney MindBodySpirit Festival.
Make an enquiry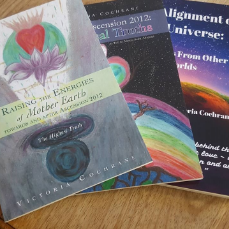 Special

- Save 10%

Save 10% off the purchase price when you buy 2 or more of Victoria Cochrane's channelled books.
Conditions
Does not apply to the Spiritual Journal