The Golden Space (Australia) PL
The Golden Space® has a full program of powerful, positive, life-enhancing experiences, also offering it's world-renowned "Awaken ~ the Divine You®" program. Along with many wellness programs and alternative healing therapies, The Golden Space brings positive energy to all those we serve. We offer transformational experiences, meditations and healing opportunities by certified practitioners and meditation instructors. We offer our +Energy [email protected] to help great companies restore their balance, health and engage in rewarding corporate social responsibility programs. The Golden Space® has centres in Singapore, Malaysia & Indonesia; with presence in many other countries included UAE, UK, Europe, and Hong Kong. Our vision is to create a culture of Oneness for a better world, for all of us and future generations. Founded in Singapore in 2005 by Master Umesh H. Nandwani and Ms Sushila Devi, it has transformed the lives of thousands through powerful programs.
Make an enquiry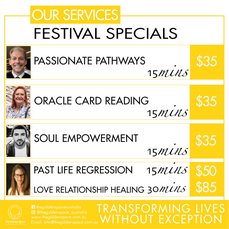 Special

- Special priced festival sessions

Great discounted experiential session with our practitioners
Conditions
Limited one session per day/two sessions per festival.
More information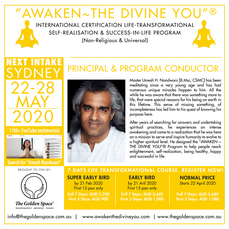 Special

- Super Early Bird Special Price

Sign up at the festival and receive the extended Super Early Bird Special pricing and save $460 on the 7-days program. Save $180 on the 3-day program.
Conditions
Registration and payment must be completed during the festival days.
More information