The Breath of Life
The Breath of Life is a range of all natural inhalation products that has been helping Australians for more than 30 years, offering comfort and relaxation to all who use it. Including our herbal compact and natural chest rub.

The herbs used are organically grown without pesticides. Our Pure Essential Oils are of the highest quality. Both are mixed, weighed and then packed, all by hand in Queensland Australia.

The herbs and essential oils are covered with a fine mesh and contained in a pocket sized, unspillable compact with a screw top lid. The inhalation strength will last for up to one year if breathed for two minutes, twice per day and the compacts may be recharged when needed with The Breath of Life Recharge Oil.

​You cannot over breathe the compact

The Breath of Life compact contains a unique combination of natural herbal ingredients including organic dried herbs and pure essential oils.
Make an enquiry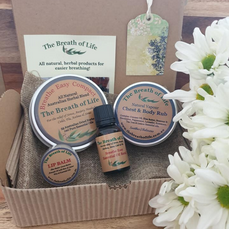 Special

- The Breath of Life Gift Box

Save $10 when you purchase all 4 The Breath of Life products in a lovely gift box.

Contains:

1 x The Breath of Life Compact

1 x Breathe Easy Essential Oil 15ml

1 x Natural Vapour Chest & Body Rub (60g travel tin)

1 x Lemon Myrtle All Natural Lip Balm

Only $95 for the MBS Festival

More information