Sound and Enlighten
Namaste!

At Sound and Enlighten, we are a sister duo who help others on their personal and spiritual journeys by providing healing, guidance and comfort. We are incredibly excited to have a readings stall at the MBS Festival!

We want to share our passion and spirituality with people who are undergoing a transition, or seeking guidance and clarity in their life journey. At the festival, we will be offering:
- oracle readings
- tarot readings
- tea leaf readings
- option for customised candles (based upon an oracle and crystal reading) that will be mailed to you after the festival

At Sound and Enlighten, we also have a range of chakra and healing candles that are available via our website.

Come stop by our stall to say hi, have a chat and get a reading!
Make an enquiry
Special

- SAVE 20% ONLINE STORE!

When purchasing a reading with S&E at the MBS Festival, you will receive a 20% discount code for our online store.
Conditions
1. Only available for merchandise and candles, excluding custom candles. 2. Offer not available for readings. 3. Valid until 14 December 2021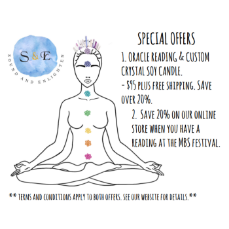 Special

- SAVE OVER 20%!

$95 ORACLE READING & CUSTOM CRYSTAL SOY CANDLE. If you have an oracle reading with S&E at the MBS Festival, you can purchase a CUSTOM candle tailored to your needs for $95 (incl free shipping). This is a saving of $15 plus shipping, as our unique candles are ordinarily $110 via our website.
Conditions
1. Offer only available for purchase at the MBS Festival Melbourne. 2. Orders must be placed and paid in full in person at the MBS Festival. 3. Custom candles must be ordered with a Oracle Reading. 4. Offer ends at MBS close of business on 14 June 2021. 5. Subject to availability - until reading sessions are booked out. 6. Custom candles will be dispatched via post no later than 18 June 2021. 7. Crystals in candle may vary due to supplier availability.