Rezzimax Pain Tuner Pro
Rezzimax offers a natural solution to chronic pain through the proven use of resonance. We have a wide range of applications and benefits for sufferers of migraines, headaches, jaw pain, neck pain, sinus pain, TMJ/TMD, anxiety, and many other symptoms. The Rezzimax works by targeting and highlighting problem areas, training the vagus nerve, and calming the nervous system.

The Rezzimax pain turner pro is extremely easy and effective to use. It is easily portable allowing you to use it anywhere you go. With the push of a button, you can use your device to alleviate pain and the best thing about it is it is all-natural! The device uses resonance and progressive stress-management techniques to relieve chronic pain. We look forward to seeing you at the Sydney MindBodySpirit Festival and helping you relieve any pain, naturally!

Make an enquiry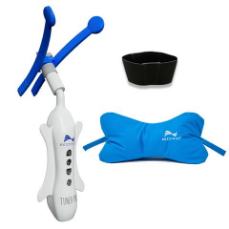 Special

- EXTRA Special

Show me this add on stand C21 to receive an extra $10 off

More information