Magically Lunar
Magically Lunar believes in leaving their footstep small on Mother Earth and living in balance with her in all we do. We believe in delivering high quality and unique products that aid you in your life every day.
Wendy and Steph are both energy workers amongst other things. We have a wealth of knowledge to share and help our clients and customers. When we are creating products, energy is always infused in them. From making sacred tools to beautiful energy infuse crystal necklaces to beautifully blended resins, we work to produce a beautiful vibrational energy within our product. We stock beautiful crystals, which we hand pick, listening to the vibration of the crystal.
Mother Earth is our inspiration with our passions and shows in what we produce. We stock product to aid Shamanic, Wiccan & Druid work. We are now creating beautiful gridding kits to aid everyone in manifestation. But we do have something for everyone.
We do custom orders for people, so we can create something unique for everyone. And are constantly looking for new ideas to create or unique products to stock.
We source ethically and sustainable.
Come say hello to us at MBS and enjoy the vibe we have to offer.

Make an enquiry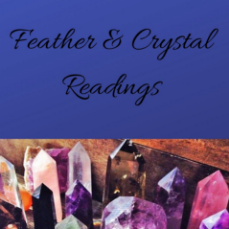 Special

- Feather & Crystal Readings

15 min Reading only $30