Kissed Earth Rachel Finch
Kissed Earth is the essence of the healing power of nature. It has been Rachel Finch's personal journey to bring you a holistic range of superior quality products designed for anyone looking to boost their health and wellbeing, naturally.

Kissed Earth is quickly growing into one of the largest wellness brands in Australia and is committed to using the finest ingredients. Real foods created using real ingredients equals a healthy body, mind and soul! We believe our products help you to reach your full potential. Our ingredients are sourced from the best places around the world and proud to be ethical in the way this is conducted.

Our products are proudly developed in Australia by Australians. Our goal and mission is to spread our products far and wide to help heal and allow people to grow and thrive in their futures! We are a passionate and proud team of what we are creating and would love for you to come to visit us at the Sydney MindBodySpirit Festival and find out more about what we are all about!


Make an enquiry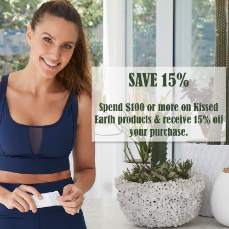 Special

- SAVE 15% on Kissed Earth

Save 15% when you spend $100 or more on Kissed Earth products at the festival!
Conditions
Offer redeemable on all purchases of $100 or more placed at the show.