Infinite Magic
Infinite Magic is a business that is here to share healing light for the betterment of everyone who needs healing work done to feel aligned and self-empowered. Jayson has been healing most of his adult life and has come onto this planet to share his healing energies with everyone.

The newest exciting part of Infinite Magic product range is Energetic Transformational Candles and Mist Sprays that Jayson and Allison have energetically worked on together to help lift and clear and bring light and joy to everyone and their environment.

Please enjoy our touch of magic in everything with do.
Make an enquiry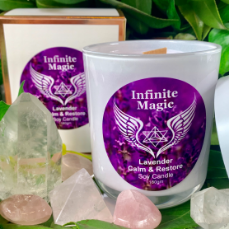 Special

- SAVE 14% OFF ALL TRANSFORMATION CANDLES

$5 off all Energetic Transformational Candles