HERBAL TINKERER
Herbal Tea & Tonics is a family owned business based in Brisbane. With an ancestry of seven generation master herbalists from South East of Iran we are passionate about connecting people to the natural health & holistic healing. ​

We aim to do this by assisting and encouraging people to look for healthier lifestyle options enabling them to become more in tune with the well-being they desire.​

As a part of our mission the herbal formulas are handcrafted in small batches and derived from health-enhancing certified organic plants.

We also offer handcrafted custom-made medicinal herbal tonics to help support people with health conditions and symptoms such as fatigue, indigestion, chronic Constipation IBS ( Irritable Bowel Syndrome), menopause and chemotherapy side effects.

This is done by conducting consultation to learn more about where you are at with your conditions to be able to formulate a custom made tea that may help.

For a free consultation please pop in & have a chat.
Make an enquiry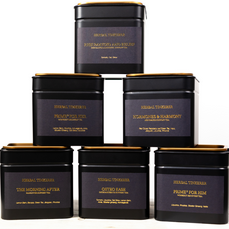 Special

- Save 20% on any Tin of Herbal teas by giving us promo code : INFUSION

Come to stand B48 and simply mention promotion code INFUSION to save 20% on any Tin of Herbal Teas

More information