Green Yoga & Wellness
Experience the transformative power of Ayurvedic Massage and Reiki Energetic Healing services. Through these ancient practices, we help individuals find ease and release what no longer serves them, leading to increased clarity and vitality. Join our yoga classes to embark on a journey of personal transformation and self-discovery. Green
Yoga & Wellness hosts holistic events and collaborates with other professionals to inspire and support others in their pursuit of a harmonious and fulfilled life.
Make an enquiry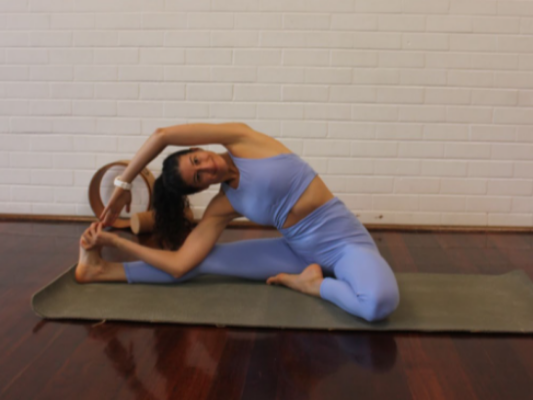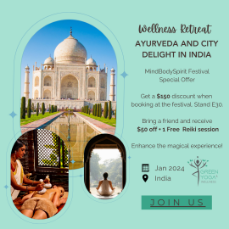 Special

- Special Offer Wellness Retreat: Ayurveda and City Delight in India

Special offer for MindBodySpirit Festival attendees, we are thrilled to offer a $150 discount when you book at the festival. Bring a friend along and receive an additional $50 off for a total of $200, plus enjoy a complimentary Reiki session at the retreat.
Conditions
Register at our stand E30 by Sunday 15 October 2023.
More information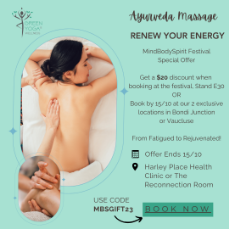 Special

- Ayurvedic Massage for Deep Relaxation

Blissful Abhyanga Massage: Traditional Ayurvedic full-body massage using warm herbal oils, promoting relaxation, detoxification, and rejuvenation. Get $20 off, applicable for 1-hour massage only, during the festival or book by 15/10 at our 2 exclusive locations in Bondi Junction or Vaucluse.
Conditions
Register at our stand E30 and Book during the festival or for any future date treatments by the 15/10/2023. Book on our website using coupon code MBSGIFT23 at the check-out page.
More information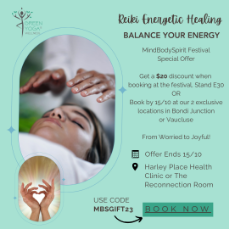 Special

- Reiki and Sound Healing Combo

Experience a unique session combining Reiki Energy Healing and sound therapy with Tibetan singing bowls for deep relaxation. Designed to balance and align the Chakras, this session offers a profound connection to your higher self.
Conditions
Redeem $20 OFF for 1-hour session at our stand E30 or visit our website using the coupon code MBSGIFT23 at the checkout.
More information