Custom Feet Insoles
Custom Feet Insoles is the the first & only company in Australia offering
* Free Foot Scan - for your arch support and foot health info
* Fully Custom Made Orthotics - Ready in less than 10 Minutes
* Gap FREE Custom Made Orthotics!!
Visit us for your free scan, test walk and FEEL the difference on the spot!
Foot Pain, Back Pain, Knee Pain?? We have the solution!

Make an enquiry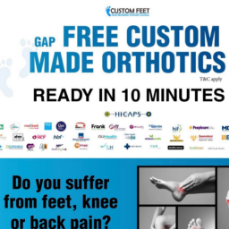 Special

- Gap FREE Pair of Custom Made Orthotics!!!

FREE custom made orthotics! T&C apply

More information