Cannopathy & Gumby Gumby
Cannopathy is focused on producing outstanding products which utilize not only the wonderful qualities of hemp, but also incorporate other fantastic bush and herbal remedies.

Cannopathy provides topically applied products that can bring the best to people because we use only the best ingredients.

Whether it is for you or someone you know, we have what you need.
Make an enquiry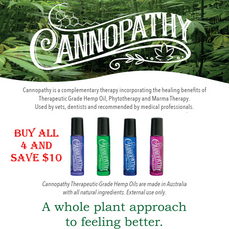 Special

- 4 or more - Save on the pack

Buy all 4 Cannopathy oils and receive a discount of $10
Conditions
Buying 4 bottles in one transaction will save you money.