CAEAYARON's Global Love Wave

Universal Love Earth Restoration with Cosmos Intelligence: Suzanna Maria Emmanuel and Caeayaron.

Discover how Caeayaron, Cosmos Intelligence, brings through vital information based on Universal Love, to help humanity discover a way forward to help us heal and restore humanity, and our planet earth. Caeayaron works with the DLE, Suzanna Maria Emmanuel. Find out more by visiting our professional Universal Love Team at the Brisbane MindBodySpirit Festival!
Make an enquiry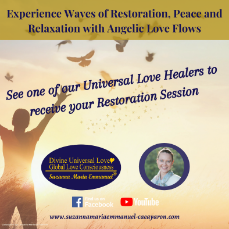 Special

- Special Offer

We are delighted to offer 30 minute Universal Love Healings for a discounted rate of $50