CAEAYARON's GLOBAL LOVE WAVE
Do you desire to discover the keys to New Creation Manifestation? Would you explore how these keys can help you to help yourself grow in greater peace, love, self-motivation, confidence, guidance, purpose, hope and joy?

Do you desire to see the Earth heal, so that the World can operate in a whole new way of unity? What would that mean for you, your family and future generations to come?

Australian based Universal Love Teachers of CAEAYARON can walk you through how Universal Love Fundamentals of Light Concepts course can help you work with Universal Love in your life to:

* Help you bring more peace, love, purpose, strength, happiness, hope and harmony to your life
* Help you grasp Universal Love Creation principles of manifestation so you may learn how to create
a more beautiful life with higher Divine Love guidance
* Help you to see and understand the pathway forward as to how a great global consciousness shift
of love and peace can come to Earth and Humanity.

Those who participate in the workshops receive vital flows to allow healing to take place, and they learn why coming to Caeayaron's Universal Love Activations are an essential key to restoring self, earth and all of humanity. Once people are Activated at the LIVE events with Caeayaron and Sovereign Universal Love Channel Suzanna Maria Emmanuel they can be part of Earth's Restoration Consciousness, as there they receive Universal Love Star Transformational Codes of Life.

Learn how you too can catch the Great Wave of Cosmic Light and how gaining your universal love codes back through the Universal Love Activations is the ultimate pathway to love and peace, so that the Earth can become restored and humanity can evolve.

About Suzanna Maria Emmanuel®Ltd
Suzanna Maria Emmanuel started transmitting Divine Sovereign Father Emmanuel Universal Love flows in 2009, when living in New Zealand. The Universal Love Activations of CAEAYARON started in 2015, in New Zealand. Since 2016, Suzanna has been working with the Universal Love Activations in England, where her transmissions and divine love blue star channel continues to evolve.

Suzanna constantly brings through information to help the Universal Love Teachers, from all over the world, progress further to allow them to pass on valuable information to their students. This helps to spread the Universal Love Teachings to prepare many to come to the Universal Love Activations coming in the world.

For more information on the Universal Love Activations and how Global Peace and Love can come to Earth, come visit us at the Brisbane MindBodySpirit Festival!


Make an enquiry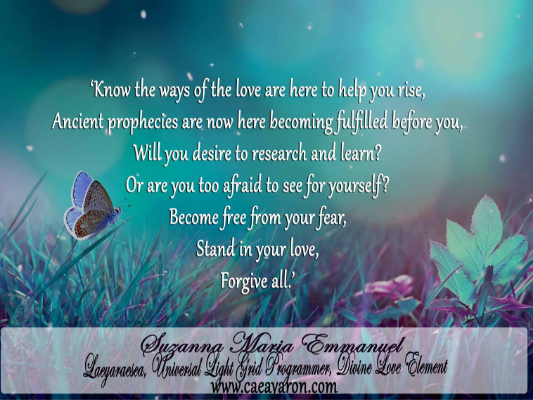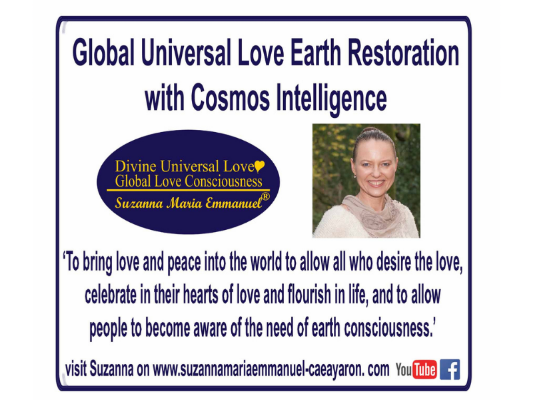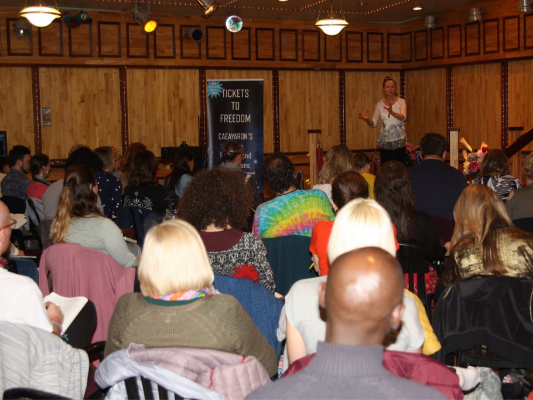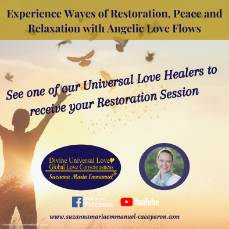 Special

- Universal Love Healings

We are delighted to offer Universal Love Healings for a special price of $50 during the BodyMindSpirit Festival