Auricle Ear Seeds
Auricle Ear Seeds is founded on the philosophy that a centered mind, gentle touch, and holistic self-care are the keystones of optimal health and happiness.
Born among the sun and waves of Australia's wellness mecca, Bondi Beach, Auricle has invoked the ancient art of auricular reading and healing to create a range of ear seeds with a contemporary aesthetic. So what are ear seeds? Ear seeding is a needle-free form of acupressure (auriculotherapy) which is based on ancient arts in China. The aim of ear seeds is to restore vitality to our inner body. This is achieved by stimulating specific nerve points within the human ear.

Our founder Elle Halliwell is a certified auriculotherapist and integrative health practitioner. She has a deep passion for helping others and sharing her knowledge in this form of Chinese acupuncture and self-healing. Her mission is to educate and empower her fellow Australians on finding their own-wellbeing. We'd love to talk all things well-being and ear seeds at the Sydney MindBodySpirit Festival! Be sure to come find us.


Make an enquiry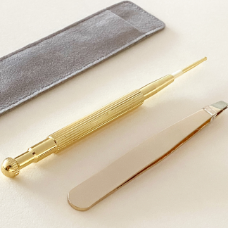 Special

- Exclusive MBS offer

Buy three or more ear seed kits and receive a free application toolkit.

More information
Special

- MBS competition

Sign up to our mailing list to go in the draw to win a three month supply of ear seeds
Conditions
Winner will be notified by email. One entry per person. Prize includes three packs of ear seeds.
More information