Amacyn Natural Perfume
Amacyn Natural Perfume is a maker and designer of luxury artisan organic and natural perfumes in Sydney Australia. We specialise in contemporary modern perfume using pure natural and organic essential oils as its key ingredients to create the profile. We are about making first to market natural perfumes, designed with Australian native plant extracts. Amacyn organically is the first and only Australian natural perfumer that makes natural perfume smell like branded luxury perfumes. We believe in the synthetic-free world hence our ingredients do not have fragrances, isolates and synthetic chemicals. It is 100% plant-based and free of any toxic chemicals. We only use certified organic ingredients.

Our packaging is recyclable and reusable. Free of plastic material.

All our perfumes are certified "Product of Australia" by Australian Made Campaign Ltd and certified vegan and cruelty-free by PETA and Vegan Australia Organisation. Our candles are certified vegan and cruelty-free.
Make an enquiry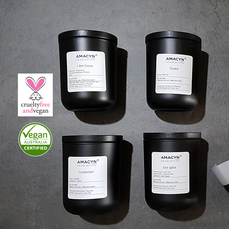 Special

- SAVE 43% SAVINGS OF AUD $60

Buy 4 natural perfumed candles for AUD $100. A savings of AUD $60. It is made with 100% soy wax and pure essential oils. Each certified vegan candles weight 180g.
Conditions
Available only at stand D67 Mind Body Spirit Festival.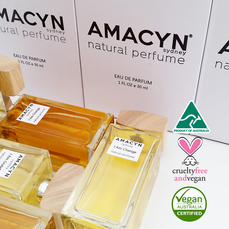 Special

- FREE SHIPPING WHEN YOU SHOP ONLINE AND SAVE UP TO 37% ($73) AT STAND D67 MBS FESTIVAL

Free shipping for spray perfumes and cream base perfumes.
Save up to AUD $8.50 or more if you purchase within Australia. Save AUD $75 or more if your purchase order is over AUD $600 from overseas. This is a good value for bulk buyers from overseas.
Discounted price 30ml $75 50ml $95 100ml $125.

Conditions
Only 30ml spray perfumes can be shipped overseas. "Express" shipping method must be selected by overseas buyers. "Free Shipping within Australia" must be selected by domestic buyers.
More information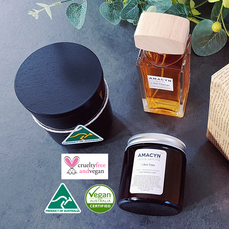 Special

- SAVE UP TO 38% PLUS FREE SHIPPING!

Buy a set of 30ml spray and 60ml cream base natural organic perfume, and 180g soy wax candles for AUD $135.00. It is made with certified organic ingredients. Save up to $83.50 on products and additional saving between $15 and $75 from free shipping when you buy online.
Conditions
Buyers from Australia should select "Free Shipping within Australia". Available for over AUD$600 order for overseas and must select "Express" shipping method only.
More information