SAVE on jewellery, health & wellness products, tarot readings and more with the eShowbag. Packed full of savings, specials and chances to WIN! Use the check box on each special to select your favourites and then click "Print selected special" at the top or bottom of the page.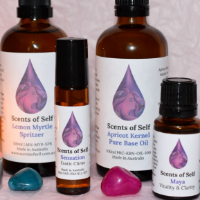 SAVE!
SAVE $29.99!
MOTHER'S DAY CARE PACK $59.99!

1 x 100ml Lemon Myrtle SPRITZER - ultra refreshing & zesty facial mist to tone & revitalise Mum's skin. It has also been known to uplift emotions and mood while boosting, confidence, creativity & positivity.

1 x 15ml Sensation EXOTIC CITRUS FRAGRANT OIL – perfume in a roller bottle! Pomelo and Clementine are exotic oils with rich, deep, fresh, zesty aromas. The Citrus Fragrant Oil provides the distinctive, unique, long-lasting fragrance (up to 6 hours). What a great combo! Mum will absolutely love this handy roller blend!

1 x 15ml Maya VITALITY & CLARITY – uplifting & energising blend of Ylang Ylang, Lemon, Rosemary & Peppermint. Maya increases energy, relieves stress, enhances mood and promotes optimism & positivity. So many ways to use this blend – it will simply make Mum's day! And the scent is divine by the way!

1 x 100ml APRICOT KERNEL Pure Base Oil – What's not to love? It's still a popular favourite for all ages and all skin types. Made from the seeds of apricots, it is anti-inflammatory, anti-oxidant, anti-ageing, antiseptic, and anti-bacterial. Rich and deeply nourishing with vitamins & minerals, particularly in vitamins A & E.

1 x ROSE DAMASK Tealight Candle – Rose is a symbol of love & femininity, and it represents the heart chakra. Love + Heart = Mum.

Mention Mind Body Spirit Festival to receive offer.
Valid to: 24-Apr-22
Conditions apply.